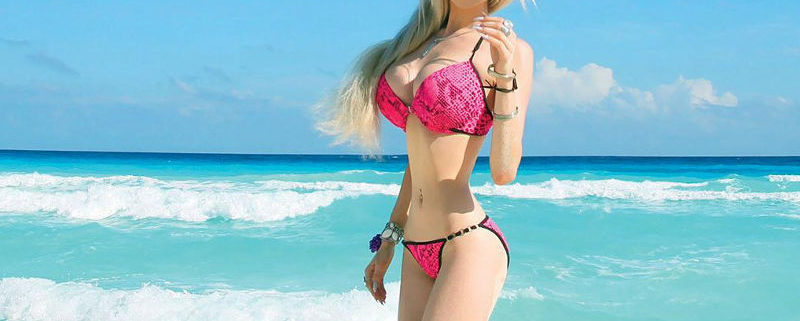 Barbie Dolls are still known in many parts of the world. They have been marketed beginning from 1960 and had a great commercial success. They also had a huge impact over the concept of the body beauty. Barbie Dolls have extremely thin bodies. Many teenage girls almost starved themselves to death to have a slender body like Barbie.
Nowadays magazine media is again busy with Barbie. But this time it is a real human being. Ukrainian model Valeria Lukyanova is getting attention with her similarity of Barbie Doll in tems of face and body. After a suitable eye makeup and hair style she looks almost like a real Barbie Doll. Recently media have discovered that she had a breast enlargement surgery. Her new images are displaying a very skinny woman with huge breasts.
The beauty concept is changing among cultures and by time. But there is something that unchanged is the woman body is figured out by the bulges of breasts and butts.
Round and bulged butts have always been popular in Brazil and South America. North America and Europe are in increasing interest with prominent buttocks. Buttock enlargement surgery is the leading buttock aesthetics in many countries.
In some cultures a woman without butts is never considered as a "real woman". It would not be a surprise if we hear that Human Barbie has got a butt enlargement job in the future.

http://www.egeozgentas.com/wp-content/uploads/2014/11/human-barbie.jpg
662
800
Ege Özgentaş
http://www.egeozgentas.com/wp-content/uploads/2016/06/Logo_eng.jpg
Ege Özgentaş
2014-11-30 11:35:19
2017-08-18 11:20:59
Do You Really Want To Be a Barbie Doll